Downloads for USM 98
8th season fix patch
Author: Impression games
This official patch only applies for the original USM98 version, ie the 97-98 one (1.0). It corrects various things: the bug of the 8th season crash. It seems it also correct bugs with some video cards and Cyrix processors, and makes some modifications to messages and tooltips. Warning: it is possible that your savegames won't be usable anymore by updating your game.
USM Data Editor 4.20d
Author: Hiroshi Narimatsu
Released between 1998 and 2001, this is the most important tool for USM98. It enable you to edit club and players in order to create updated dataset or correcting game mistakes. It also has the possibility to look inside savegame to look for players. In one hand, it fully completes its objective: replace the poor built-in editor of the game.
UsmTeam
Author: unknow
A trainer supposed to help you to boost your team's skills. As this is a trainer, you must lunch the game before launching the trainer. Note that it has been designed for the english version of Usm98, so if you are using another one rename your game's .exe to make it work. For exemple, rename Usm98-99.exe to Usm98.exe.
USM 98-99 Tweaker
Author: the USMC Team
Version: 1.3
A little application to change some behaviors in your game. Applies to USM98/99 english (UK) version.
Complete documentation inside.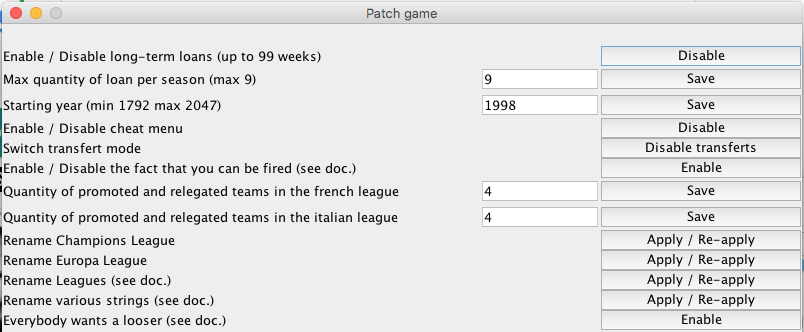 USM Explorer
Author: the USMC Team
Version: 1.0
A complete evolution of the USMDE to visualize and edit data of the game (teams, players, competitions…).
USM98 Textures editor
Author: the USMC Team
Version: 1.1.1
A little application to help you to edit some textures (adboard, pitches) in USM98.
Documentation inside.